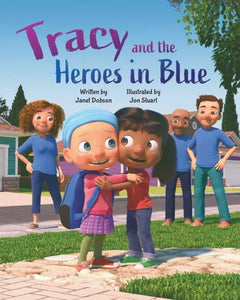 Written by: Janet Dobson
Illustrated by: Jon Stuart
Based on Roc Solid Foundation's mission of building playsets for families suffering from pediatric cancer diagnoses.
After weeks of being hospital bound fighting pediatric cancer, Tracy finally comes home. But she soon discovers that life at home will look very different from now on.
"Maybe you should lie down and rest before dinner, Tracy."
"Wash your hands, Tracy."
"You can't go back to school yet, Tracy."

Tracy just wants life to go back to normal, but at this rate, nothing will ever be the same as before. Join Tracy as she learns that she is not alone on this journey and there is hope. Tracy and the Heroes in Blue is the honest story of one girl's journey to discovering that you can always find joy, even when life feels far from normal.